New to the community, bringing a rec and a fanmix, and some massive iconage later on!
what:
victory march
by
starboardsided
[ george/winona ]
why:
A beautiful G/W vignette written by the George [
for12minutes
] to my Winona [
widowing
] at a private RP comm, that's heavy on headcanon personality infusion. ♥ Plus Lena's just a lovely writer.
Fanmix
: (Sometimes) I Believe in Fate
Subject
: George Kirk/Winona Kirk
Notes
: Laidback optimism with a little bit of sorrow; mostly indie artists.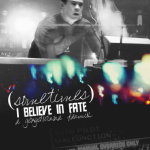 ( music + art )